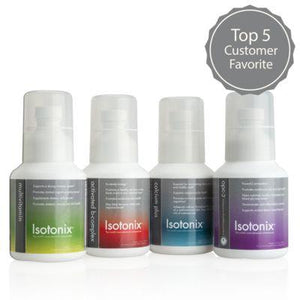 Shop Amwell
Daily Essentials Kit (Without Iron)
Regular price
$180.00
$0.00
Unit price
per
Isotonix OPC-3® - The most powerful antioxidant supplement on the market today! 
Provides

 

complete

 

antioxidant protection. 
Helps maintain healthy cholesterol & blood glucose levels
Helps maintain healthy circulation by strengthening capillaries, arteries and veins
Demonstrates anti-inflammatory activity and promotes joint health.
Combats free radicals.
Isotonix® Multivitamin with Iron - Get TOTAL Nutrition!
Contains 100% or more of the Recommended Daily Value of

 

essential

 

vitamins & minerals.
Supports a strong immune system.
Supplements dietary deficiencies.
Isotonix® Calcium Plus - Essential for maintaining strong bones, healthy teeth and gums
Supports skeletal health
Promotes normal regulation of enzyme & hormone production.
Supports cardiovascular health
Isotonix® Activated B-Complex - BOOST YOUR B VITAMINS with our active forms of vitamins B6 & B12 Plus Quatrefolic®
Increases energy & fuels optimal energy production
Promotes a healthy nervous system, bone marrow & intestinal tract
Promotes cardiovascular health
Maintains healthy levels of serotonin, thereby decreasing stress & improving mood
---