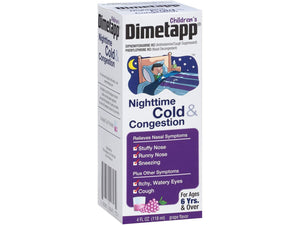 Shop ACE OTC
CHILDREN'S DIMETAPP NIGHTTIME COLD & CONGESTION, 4OZ
Regular price
$8.09
$0.00
Unit price
per
For ages 6 years and over
Diphenhydramine HCI (Antihistamine/Cough Suppressant)
Phenylephrine HCI (Nasal Decongestant)
Relieves Nasal Symptoms:
Stuffy Nose
Runny Nose
Sneezing
Plus Other Symptoms
Children's Dimetapp® Nighttime Cold & Congestion has the cold-fighting power to not only relieve nasal congestion symptoms such as a runny nose, stuffy nose and sneezing but also your child's itchy, watery eyes and cough symptoms.
Nighttime Cold & Congestion... the cold medicine that lets you and your child breathe easier...at night!
We pledge to you that Dimetapp® products contain only high quality ingredients and meet strict standards of quality and safety. You can trust Dimetapp® products for your family.
Do not use in children under age 6.
---
Suggested Use:
do not take more than 6 doses in any 24-hour period
do not exceed recommended dosage
age dose


adults and children 12 years and over - 4 tsp every 4 hours
children 6 to under 12 years - 2 tsp every 4 hours
children under 6 years - do not use
Other information
each teaspoon contains: sodium 4 mg
store at 20-25°C (68-77°F)
dosage cup provided
---